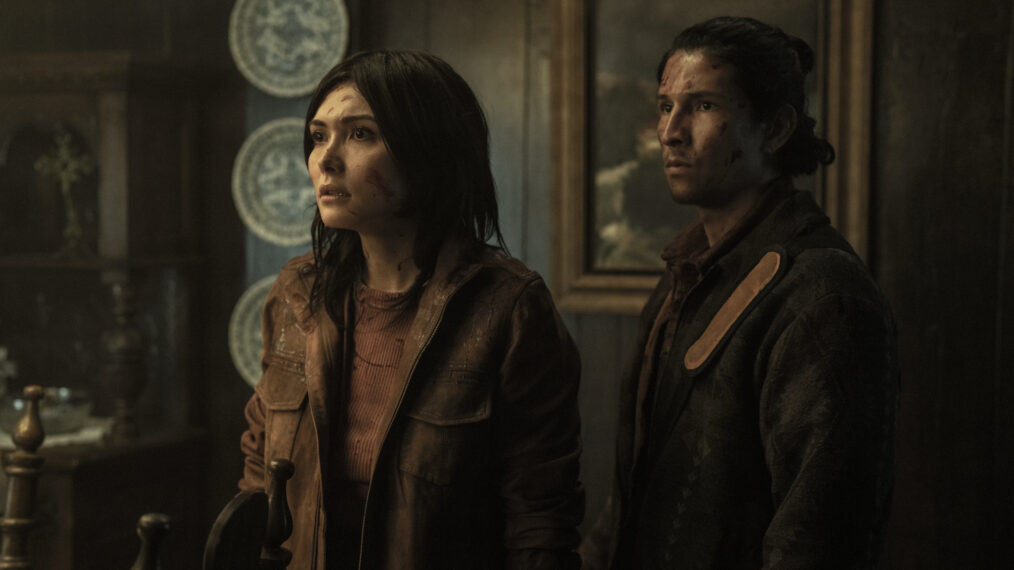 [WARNING: The following contains spoilers for Tales of The Walking Dead Season 1 Episode 6, "La Doña."]
Halloween got here a little bit early on Tales of The Strolling Useless, as this episode sees two survivors trapped in a haunted home.
Idalia (Daniella Pineda) and Eric (Danny Ramirez) come upon La Doña's dwelling one night time as they battle to outlive within the freezing woods. Idalia says they need to go inside and see if La Doña will assist them — apparently, in line with certainly one of their late pals, she was one thing of a determine of legend amongst these within the space. However La Doña seems to be very a lot alive, as a girl is there in the home who's prepared to provide them meals and shelter. However when Eric calls for they be allowed to remain in her dwelling for greater than an evening, his outburst causes her to choke after which hit her head on the nook of the desk, killing her.
That's the place the difficulty begins. La Doña could also be gone, however as she reminds Idalia via creepy voiceovers, the home remains to be hers and the land remains to be hers. This drives a rift between the couple, as Idalia needs to depart whereas Eric insists they need to keep. Slowly, weirder and weirder stuff occurs to Idalia; she's nearly strangled by a pair of ghostly arms, she sees a shadowy determine standing over her mattress, silver Jesuses on crucifixes climb down from the partitions and begin to assault her, that type of factor.
Eric's satisfied it's all in her head, however then he begins affected by it, too. He sees a "sleepwalker" that he absolutely believes is an actual particular person, which Idalia has to place down. That's once we get the couple's backstory; apparently, Idalia would possibly or won't have been chargeable for killing the girl who informed them about La Doña, and Eric and her ended up killing everybody else of their group due to it.
Because the episode ends, the home descends into chaos. The home windows crack, the bottom shakes, and La Doña rises once more (maybe actually, if the scene of her walker rising from her grave was actual) to inform the couple to get out of her home. They skid throughout the ground and right into a mausoleum full of walkers of the individuals they killed, and as they battle on the ground, Eric stabs Idalia. Because the digital camera pans out to indicate each characters lifeless on the ground (with not a walker in sight), it's not abundantly clear what occurred. What prompted these hallucinations? Did they kill one another, or had been they each lifeless the entire time? We'll by no means know.
"La Doña" concludes a fairly underwhelming first season for Tales of The Strolling Useless. Whereas this episode lands someplace inside the center of the pack, total, the season had extra lows than highs — and even the finale isn't immune from an odd sense of "ho-hum"-ness surrounding the entire thing.
Tales by no means informed us a lot of something we didn't already know in regards to the Strolling Useless universe, and it relied a lot too closely on hallucination storylines. (One would possibly say that's a sin of the TWD-verse as an entire.) When it was introduced, followers had hoped Tales would discover different locations and elaborate on what had already been proven within the three(!) different spinoffs. As an alternative, it felt like in its quest to differentiate itself from the others, Tales has gotten too slowed down by what got here earlier than.
Tales of The Strolling Useless, all episodes now streaming, AMC Premiere
Mary Ellers is Wahu Times's senior journalist covering federal politics. She has previously wrote for NPR and is a regular contributor to Medium. Mary graduated from Georgetown University's journalism school with distinction in 2014.